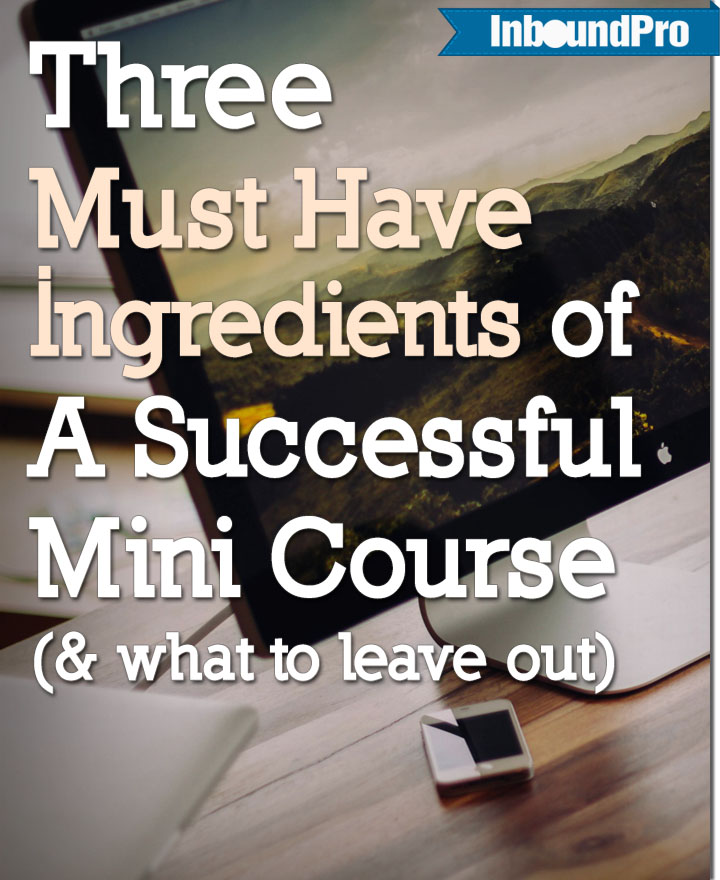 I've created quite a few courses in my time online.
I remember my very first one. I titled it Zero to Blogger and it came out in 2010. That was almost 5 years ago and things have changed quite a bit since then.
Here's an interesting thought, though. That course was made up of 6 tutorial videos that showed people how to build their wordpress blog from scratch. Everything from finding a domain name to publishing their first blog post with images.
It was free, very detailed and hundreds of people went through it and built their very first blog because of it. It's no longer available, but guess what… people that read my old articles where I mention the course still email me to this day asking for it.
There are STILL people that need this information. 5 Years later.
That's a BIG DEAL and Here's Why
One of the most common excuses for people not creating or releasing a course on a given topic is because it's been done before.
Yes, I know. EVERYTHING has been done before. My course in 2010 was not the first course ever created on blogging and it certainly was not the last. There are thousands of other people creating free and paid courses on the topic and those who do it right are seeing the benefits of doing so.
Courses, whether big or small, provide you with:
Boost in Authority/Credibility
Exclusivity (if the content is paid)
Expert Status (because you know something others don't)
Income (again, if you decide to charge for it)
If you take anything for today's post, let it be this. It doesn't matter how many other courses there are on:
blogging
marketing
business
design
fitness
dating
relationships
It simply doesn't matter. You have a unique set of experiences and knowledge that no one else has. You have a unique teaching style that no one else has. Your course can be the thing that sparks change in someone's life. Don't limit your potential by comparing yourself to others.
That's selfish and detrimental to your success.
It's selfish because when you say, "it's been done already" or "I can't create a course on this, this person already did and she/he's an expert on the topic", you're thinking about yourself and not about your audience or customer. Your focus should always be on their needs, not your worries.
It's easier said than done because we all live inside our heads, but here's something that might help.
There's No Such Thing as a Saturated Market
What others call 'saturated', I call opportunity. The internet is huge. (3 billion people online as of March 2015). Want proof? Here's a screenshot I took from Internet Live Stats: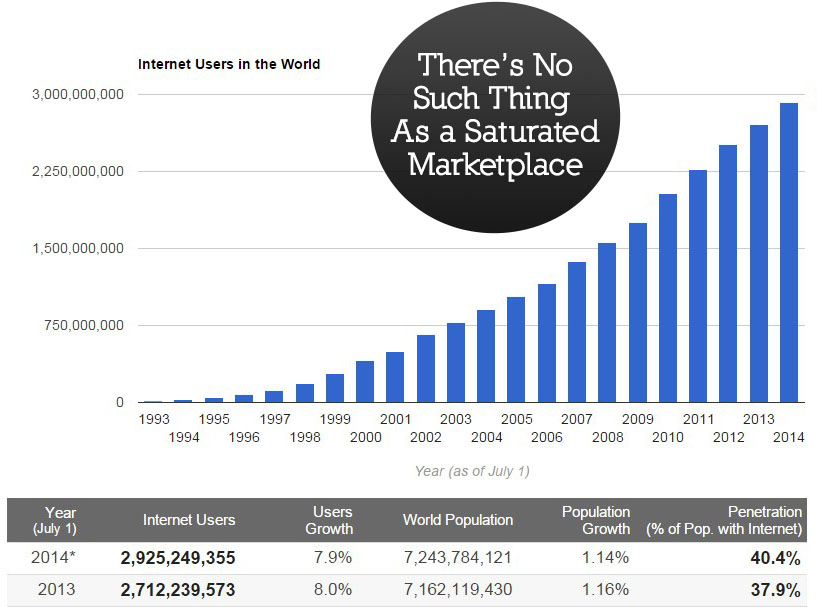 What does this mean? It means you have an enormous opportunity right now. There are people getting internet access every single day that have not heard about you, your blog or your products.
This is also true about your competitors. They don't know who they are and if they want answers to a problem, they're going to buy from someone they know, like and trust. That person can be you if you focus on their needs and forget about what "other people" are doing.
Mini Course Elements
First of all, why mini courses?
Because if you're just getting started putting online courses together, there's a good chance you might get overwhelmed with a full blown training program that costs $200 to $500 bucks. Let's get your feet wet with simple courses that you can create in a matter of days.
You can give them away for free or charge anywhere between $6 to $19 for them. The low price also helps you psychologically because you won't be held back by the question, "is this valuable enough?, will people actually pay for this?"
Plus, if it doesn't work out, you only spent a few days on it so you can quickly move on to your next project or course. Anyway, I got a few good reviews for my latest course on productivity, but one was particularly special to me. (You can read it here)
The reason this course was received so well was because not only did I deliver on my promise, but I also included 2 out of the 3 important elements that I think every course should have.
1. They Need Structure
Imagine walking into a college course and the professor tells you to take out your required textbook and turn to chapter 8, page 127. He starts the lecture talking about a topic you know absolutely nothing about and then begins jumping from chapter to chapter, assuming you'll "get it" sooner or later.
Then the final exam comes along, you fail and cry all night long. (sad story, I know…)
What did the class lack? Yes, structure. You get 100 points for that.
Without structure, your students (in this case, your customers) will get lost and you'll be setting them up for failure. The information needs to make sense. It needs to build them up to the advanced lessons. It needs to define words they might not know.
It needs to give them some sort of road map to follow. Sure, there are some courses where choosing their own adventure might be the best option for structuring the content, but in general people usually pay for the convenience of having the information presented well.
So how do you properly structure a mini course?
It all starts with having a great outline. Ask yourself, what does my customer need to know first? What might they need an explanation for before we start talking about the advanced strategies and methods?
Take your time outlining your lessons by breaking them up into categories, sub categories and big ideas. Here's how I do it for ebooks; it works the same way.
2. Additional Resources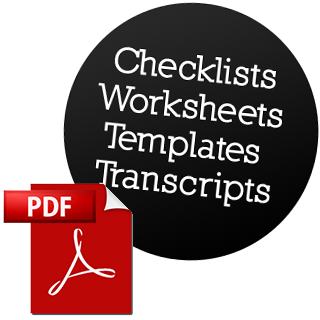 I didn't do this for the Zero to Productive course, but it's something I've done for all of my other courses because people love it.
Remember, people pay for convenience. The easier you make it for them to use your product, the better off they'll be. But what additional resources can you provide to your customers? Here are some ideas I've used in the past.
Checklists – These act as To-Do lists for your customers. Once you've taught them about a particular topic, why not give them a list of things to do to achieve the result their looking for. If this were a fitness program, the checklist would include getting gym gear, going food shopping, and printing out their workout schedule. Checklists get people taking action and USING your product, which is critical to getting good reviews.
Worksheets – Worksheets are a great way to get ideas from their heads on paper. Once they start planning their course of action, it's only a matter of time until they start seeing results. Worksheets also help your customers figure out how big concepts relate to their individual situations.
Templates & Scripts – I like using templates and scripts with courses because it's work that's already done for your customer. They can simply start where you left off or customize to meet their needs. Ramit Sethi does this with his course on negotiating a hire salary or lower credit card APR. I've given customers a 7 part email launch sequence to launch their ebook.
Transcripts – If your mini course includes audio then having transcripts might be something to consider. Not everyone likes to listen to audio content (news to me), so providing customers with the written version may be useful to them.
3. Include an Action Plan
What are they going to do?
After reading, listening, or watching your awesome instructional content; what are they going to do?
Here's an idea. Provide them with a plan of action to make sure they're on the right track. Every one of the 10 lessons inside my productivity course includes a action step. They learn then they take action. That's the name of the game. (there's no actual game, I just thought that sounded cool).
Anyway, I did the same thing for my Blog Design ebook. Every chapter has a list of things to do. I try my best to help my customers implement what they learned about. If they implement then  a few things become true:
1. The likelihood of them asking for a refund goes down significantly.
2. They get closer to their goals and love you for it.
3. The likelihood of getting a positive review or testimonial goes up.
The reason I bring up testimonials so much is because they help you sell more courses. Social proof is a powerful mental trigger and when used correctly can help you persuade people to invest in your products at a much higher rate.
But this post isn't about making the sale, so we'll leave that for another time.
Leave Out Irrelevant Information
You will feel the need to provide as much value as possible, especially when creating something you'll be charging money for. The urge to include more information than necessary can backfire on you. It can overwhelm your customer.
Focus on giving them what they bought.
Deliver on your promises and over deliver by making it easier to implement. Make it inspiring and entertaining to go through, but don't ramble. Don't go off on tangents. Stick to the course topic and go straight to the point. This is a big mistake a lot of new product creators make.
Point blank: Leave out anything that can be put into another online course. 
Hope you found this useful. If so, do me a favor and share it. Sign up below if you'd like to receive new blog posts send straight to email inbox every Monday without fail. Blogging, marketing, courses, and launch strategies all free.
…and Zero to Course is coming soon. Learn more by signing up to the early birds list here.