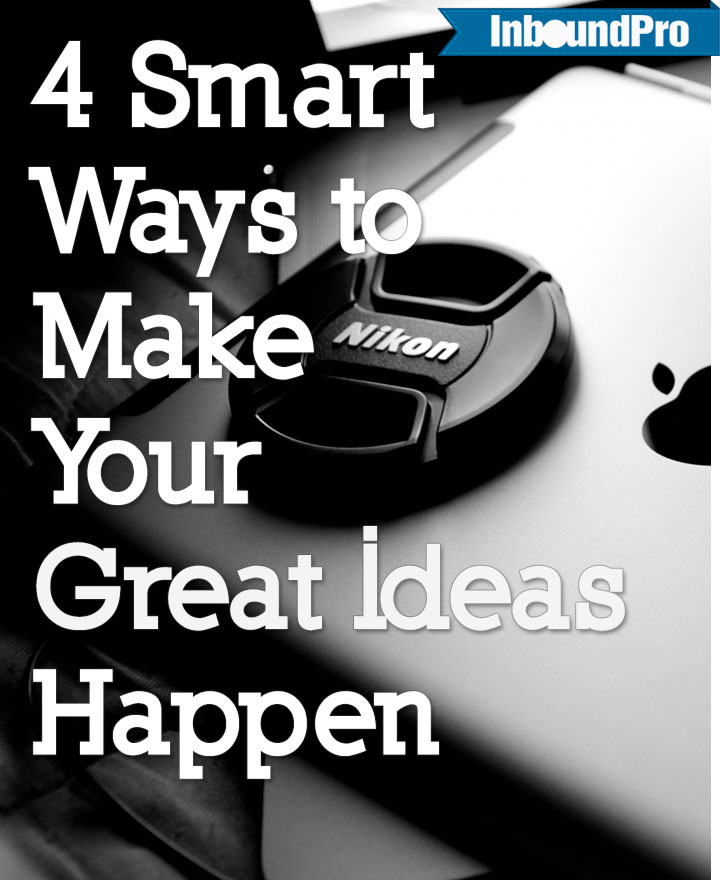 While looking at my archives I found a post I wrote back in December 2012 that talked about why our great ideas never fully happen.
It's a good read, you should check it out, but I realized I never followed up to talk about increasing the chances of completing a project.
So, here it is.
I was originally going to title this post "The Art of Following Through", but we all know how headlines work. List posts attract people and making great ideas happen just sounds better than following through.
Anyway, the reason I bring that up is because of a quote I read that really sums up this whole idea of making things happen for ourselves.
"I can give you a six-word formula for success: "Think things through – then follow through" – Edward (Eddie) Rickenbacker
Although I truly believe planning and execution are the keys to success, we all know that's easier said than done. Today I'd like to give you four smart ways to start moving forward.
Specificity and Attainability 
Yeah, yeah, yeah… goals are important. We know that.
But did you know that the type of goals you set for yourself can mean the difference between success and complete overwhelm. I remember sitting down one day with a notepad and a pen, jotting down all my goals.
26 minutes later I was on page 3 and I didn't know where to start.
Specificity is important. Saying that you want to make money with an online business is not specific enough. Rather, say that you want to reach $1,000 per month by making 10 product sales a month at $100 each.
Attainability is also important. Setting a goal that is virtually impossible to reach will only discourage you from taking action. The idea here is to reach for the stars while having realistic expectations.
Less is Better
Three pages of goals is too much, so I boiled it down to 5 things I want to accomplish. Just 5. Having a huge list won't allow you to focus, but there's something to be said about getting everything out of your head.
I recently listened to a podcast episode by Sean McCabe that talked about this idea of emptying your brain of all the ideas that it has. He says that it helps free your from trying to remember everything and lets you focus on the things that are important to you right now.
I found this to be true. So after writing your huge list of goals, idea and projects you want to take on, pick out the ones that excite you the most. The ones that are going to make the biggest impact on your life – more often than not, it'll be the toughest one to achieve.
Mini Milestones
Revisiting your goals and having mini milestones along the way is a great way to make your ideas happen. We sometimes get caught up in how long this goal is going to take to achieve that we become blind in the progress we're making.
I recommend setting up a series of milestones to keep track of where you are and what you've done so far. For example, if you're creating an information product or ebook, celebrate every time you finish a chapter or module of the course. It doesn't need to be a big celebration, just an hour YOU time or grab a six pack and enjoy.
This time will also allow you to reboot your brain from working so hard and get back into  the flow of things a lot easier.
Do One BIG Thing Daily
Don't fall into the trap of meaningless 'busy' work to pretend you're actually getting stuff done. You're only hurting yourself. If you want to make your ideas happen, you have to do the things that are going to help you achieve the goal.
If you're anything like me and want to build an online information business, then your goals will fall into one of these 3 categories:
Create content (blog posts, podcast, videos)
Create paid content (ebooks, courses, membership sites)
Promote your business (marketing, engagement, optimizing)
That's it. Those are the important tasks in my business. If I don't do anything on a daily basis that falls into one of those 3 categories, then I didn't move my business forward. Simple as that.
Hope you found this useful.