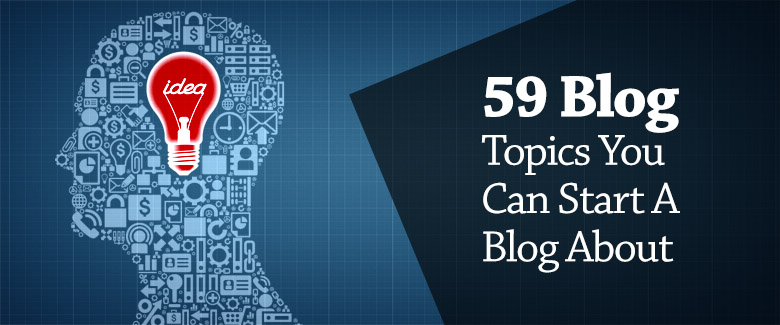 Featured Download:
Once you get your blog topic,
download the 10-Step guide
to creating and selling courses from your own blog. Go ahead… it's free!
This list of blog topics will surely eliminate the excuse of not having anything to write about.
I often get emails from people asking me what other blogging topics are there besides Fitness, Marketing and Celebrity Gossip.
Believe it or not, there are literally thousands of things you can write about, but that doesn't mean all those ideas are pure gold. Some topics will be more popular than others, and the competition in those markets will vary as well.
Below is a list of 59 most popular blog topics you can choose to start a blog about. This list might come in handy if you're thinking about self-publishing an ebook and selling it online, too.
They're broken down into the three (3) mega-niches. Health & Fitness. Money & Business. Dating & Relationships.
I would bookmark this page if I were you.
The blog topic ideas that don't fit in any one of those categories are listed under the other topics section. The ones in bold letters are very interesting ideas, that don't seem to have a dominant player in that sub-niche. Feel free to steal it.
Health & Fitness
1. Raw foods diet
2. How to lose weight
3. Fasting & natural detox
4. Living a healthy lifestyle
5. How to build muscle
6. Holistic healing
7. Fitness for women over 40
8. Home workout routines
9. Yoga for healthy living
10. Teen bodybuidling
11. Cooking healthy meals
12. Fitness for entrepreneurs
13. Training for marathon runners
14. Body conditioning
15. Self-defense training
16. Body weight training for men
Money & Business
17. Offline business consulting
18. Creating niche websites
19. Running a day care center at home
20. Personal finance for young parents
21. Trading stocks
22. Starting an information business
23. Tax information for small business owners
24. Legal information for entrepreneurs
25. Advertising and copywriting tips
26. Frugal living for stay at home moms

27. Buying and selling cars for profit
28. Buying and selling websites for profit
29. How to outsource
30. Saving and Investing
31. How to start a software business
32. How to land a great job in this tough economy
Dating & Relationships
33.Parenting tips for new parents
34. How to land a hot date
35. How to get a girlfriend/boyfriend
36. Dating tips for single parents
37. How to plan the perfect wedding
38. How to find "The One"
39. Improving your sex life
40. Marriage tips for newlyweds
41. Prenatal tips for expecting moms
42. Getting your ex-girlfriend back
43. How to make lots of friends
44. How to succeed socially (Having a great social life)
45. How to stop bullying/cyber-bullying
46. Child behavioral disorders
47. How to become a better person
Other Topics
48. How to read faster
49. How to speed up learning
50. Interior design for new home owners
51. How to maintain your new car
52. How to program your own iPhone apps
53. Photography/Digital photography blog
54. How to shoot and edit video
55. How to become an awesome writer
56. How to golf like a pro
57. Improving your communication skills
58. Gardening blog
59. Productivity tips for busy people
………………………………………………………………………………
Now that you have an idea of all the popular blog topics out there, it's your turn to pick one and run with it.
Pick one that suits you. Pick one that you know a lot about. Pick one that you find interesting. Pick one that you don't mind talking about over and over again for years.