Would you rather…
Have one of your posts go viral once a year?
Or get a consistent flow of traffic that keeps growing month to month?
If you picked the first one, then you should really read this article.
As for the rest of you, great job! You should go buy yourself something nice. You're a smart cookie.
The idea of getting lots of traffic to your website is not only sexy, it means you're doing something right. It means you're writing stuff that connects with people and it means you're on the right track.
But most people still struggle with getting their content shared. This is not about going viral, it's about just getting your audience to feel the need to Tweet, Facebook share or Stumble whatever you publish.
Before we get into these 9 'rules', I'm assuming you already have a way for them to share it. I'm using the Easy Social Share Buttons, but you can install any sharing plugin. They all do the same thing anyway. Let's get started…
1. Have a point
Before you start putting words on the screen, take a second (or as long as you need) to think about the point of the article. The worst thing you can do is waste your reader's time with something that's not useful.
2 ways to figure this out:
Is the topic relevant to your readers?
Are they going to leave knowing something new?
If you answered no to either of these questions, scrap the idea.
2. Brainstorm ideas worth sharing
You can think of hundreds of ideas to write about, but that doesn't mean they're all good. Whenever I'm brainstorming blog topics, I ask myself:
Can this be backed by research?
How can I make it different from all the other posts on this topic?
Very few people go beyond the topic itself. They don't share their experiences, and they don't bother looking up statistics or studies to back up what they're sharing. There's huge opportunity, even in 2014, to grab the attention of your market by doing these simple things.
3. Do your research
Are you noticing a pattern here? We're still in research mode and not one word is on the page yet. Now, I'm not suggesting you spend ALL your time researching. At some point you're going to have to start writing, but don't dismiss it either.
What are some things you can do in research mode?
Google your idea to see other people's take on the topic
Read a few comments to see how people feel about this idea
Look up data to add some validity to your ideas (I love Science Daily for this)
4. Make it unique
If you Google the phrase 'content worth sharing', you'll find many articles and videos about it. This article is not the first and it certainly won't be the last – and that's OK.
The key to getting your content shared is not to be the only one writing about a topic, but to make the topic unique. How am I doing this?
I shared what I do when I brainstorm ideas.
I shared the website I use to look up research studies.
And I'm writing this in my own voice.
You can do the same.
5. Write until you're done
The data gathered by SerpIQ shows that post length is important when it comes to SEO rankings, but does the same rule apply to content sharing?
I've found that people enjoy reading articles that have a ton of actionable steps and detailed information – it's not possible to do that with just a few hundred words.
So as a rule of thumb, I recommend hitting the 1,000+  word posts whenever possible, but don't worry about it too much. Simply write until you're done. If you've shared everything you wanted to share and only reached 986 words, then that's OK, too.
6. Add visual elements
Here's another piece of data you might find useful: [tweetable]94% more total views on average are attracted by content containing compelling images than content without images.[/tweetable]
MDG also found that the more multimedia elements you add to your press releases, the more views you're bound to get. (I don't see why this wouldn't be the same for blog posts). Here are some of my most shared pieces of content.
Check out the images I used and the amount of Pins they received on Pinterest.
Let's continue…
7. Go beyond the written word
Multimedia elements aren't just images, they include audio and video, too. I can only think of Pat Flynn's Podcasting tutorial for this example. This is a humongous post with lots of valuable information that he could have easily charged for.
Let's take a closer look:
It's over 2,800 words long
Includes 6 in-depth videos
And 17 recommended resources
And because he gives it all away for free, his audience felt compelled to share it 1,474 times and here I am talking about it on my blog.
8. Start the sharing process yourself
[tweetable]You can't expect people to find your content if you don't promote it[/tweetable]. Here's a quick list of things you can do to begin the sharing process.
Build an email list – Send your email subscribers to the post you just wrote. The more people see it, the more will share. Don't skip this part, it's THAT important.
Tweet it – But don't jut send out a tweet. Create an image specifically for your Twitter followers. It will stand out in their stream and will get more clicks. The ideal size for Twitter images is 440 X 220.
Facebook share it – Same rule applies here. Don't just share your article with the default image. Create a 560 X 292 image with a compelling headline and your logo, and THEN share it.
Pin It – The best size for Pins is 576 X whatever you want. Any wider than 576 pixels and the image will become distorted.
Share it more than once – Your readers are not online all at the same time, so share your content at different times in the day.
9. Share the 9th Rule and Win a free Book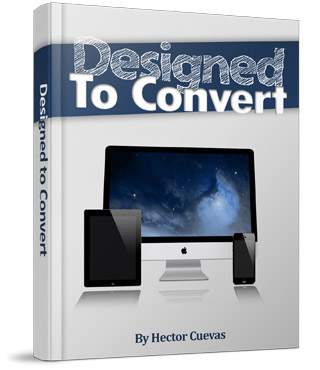 I'll leave the 9th rule up to you, with a little incentive.
Click this link to tell me what the 9th rule should be, and I'll pick one person on Friday February 21st, to send a free copy of my ebook "Designed to Convert". (which costs $39)
Good luck.. 🙂