If ongoing ebooks sales is what you want, then you'll need a few things.
a finished product – I'm working on a post to help you finish your book.
a carefully crafted sales page – that's this post right here
and a sequence of emails that sell your book – this article is coming soon.
So let's tackle the second bullet point – creating an effective ebook sales page.
After creating, writing, and designing sales pages for online courses, books, online services, and even offline services, I've learned that you don't need to pull out all tricks and tactics to get a sale.
A sale happens when a few things align. The right person, with the right problem (or desire), is presented with the right offer at the right time. Now, that may seem like a lot to ask for, but you only have control of ONE of the four things I just mentioned.
The Offer – that's it. If you can clearly articulate the value of your product – in this case an ebook – and also craft an offer that would make it impossible for the right person to resist, you WILL get sales.
So that's what I'm going to show you how to do today. I'm going to breakdown my ebook sales pages in the simplest way possible. So all you'll have to do is apply it to your book offer.
This isn't theory or what "I think" a sales page should have… this is based on my sales pages that get me ebook sales automatically, whether I'm promoting the book or not. Let's get started.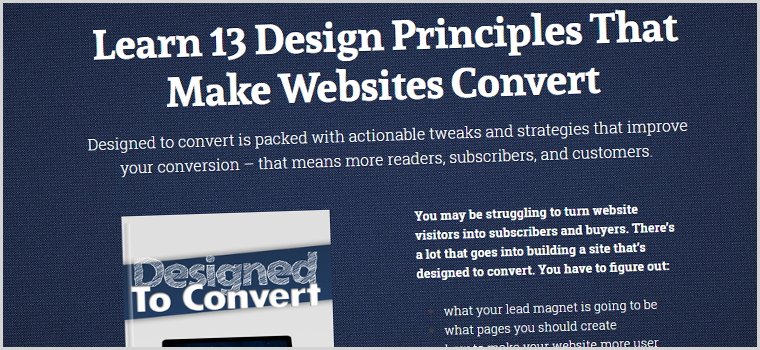 Start Off Strong – You only have 8 seconds
The top of you sales page is very important. You need this section of your page to let people know they're in the right place and this book is right for them.
On average you have about 8 seconds to get this message across. That may seem ridiculous to you, like "who goes to a page an leaves in less than 8 seconds?" – it doesn't make sense.
Until you monitor your own browsing behavior. Next time you get online and search for something on Google, really noticed how you browse, how many tabs you open, how quickly you close a page when you can't find the answer you're looking for.
Like reeeaaaally pay attention…
We all do it. I did it just a few minutes ago. I was looking for articles on the best way to tuck in your dress shirt so you don't get that bulge on the side. I think I might've opened like 7 different sites and stopped when I saw an article that caught my attention.
Now imagine trying to get people to BUY something, not just read your free stuff. It's going to take a lot more to keep them on the page long enough to make a decision – a lot longer than 8 seconds. So the top of your ebook sales page needs a few things…
a compelling headline
a descriptive sub-headline
a nice book graphic
and qualifying questions/benefits
The Headline & Sub-Headline
Since you only have a few seconds to catch the visitor's attention, you need to make the headline count. The headline has one job to do, get the visitor to continue reading the page.
That's it… and you do this by making sure it's compelling and talks to a benefit the visitor wants. I recommend staying away from creative, ambiguous headlines that may confuse your reader.
Make it clear and concise. You're not making a sales pitch with you headline, you're just sparking interest and getting the right people to scroll down the page.
Here are some examples to help you create great headlines. Do this:
Become the Best-Dressed Guy in the Room
Learn to Design Beautiful Effective Websites
Gain Lean Muscle Mass without Bulking
Don't do this:
The Ultimate Fitness Secrets Revealed – no benefit
Save the Data. Save the Day – too clever & again, no benefit
Home Decor for Moms – too generic
You can also use a sub-headline to drive home some more specific benefits. I recommend you use one because it may help you retain more visitors (if you do it right).
Sub-headlines should be treated as extensions to your headline. They should add on to the benefit you're trying to convey.
For example, if your headline reads, "Learn to Design Effective Websites", your sub-headline can be "Discover the techniques for designing websites that get visitors to click, subscribe, and buy your products."
Always think about your ideal customer first. If you do that, you'll be effective.
Ebook Graphic
Your ebook is digital. You can't touch it, you can't smell it or taste it. (not that you'd want to anyway). But you need it to be valuable enough in people's minds that they take our their wallet and buy a copy.
Your job with the sales page is to clearly articulate the benefits and make it tangible. One way to do that is to have a visual representation of the book itself.
I'm sure you've seen plenty of book graphics online. I use them for my free downloads, as well as my paid books. If you've been wondering how to create these graphics for your own ebook, I got one word for you – Fiverr.
Now, you can hire someone for a couple hundred bucks to create a high quality book cover in different sizes and angles, or you can go to Fiverr and have one made for $5. There are some great designers on Fiverr and I'm sure you can find a great deal.
Search through the Fiverr gigs by best ratings and you'll have a professional ebook graphic in a matter of days. Once you get the image, use it on your sales page. It can only help with conversions and sales.
Qualifying Questions & Benefits
The top of your ebook sales page should also qualify the person visiting.
Remember, your ebook is NOT for everyone. It should be written and designed with a set group of people in mind – people with a specific problem they would like to solve.
So in this section of your sales page, ask questions (or make statements) that your ideal customer would 'nod their heads' to. They need to agree with these qualifying statements or else you're wasting your time with the rest of the pitch.
So for a book about losing belly fat you can ask, "are you struggling to lose that stubborn belly fat?"
…or for a book about web conversions you can say, "You may be struggling to convert visitors into subscribers and buyers… you are not alone"
If they say "YES" to your qualifying questions or statements, they'll continue reading down the page wanting to learn more about the book – which brings me to…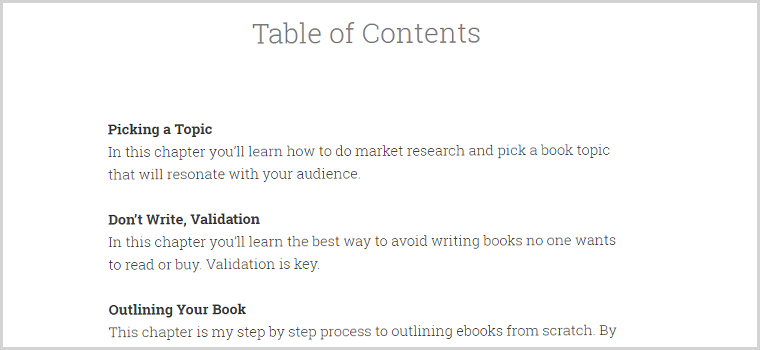 Tell Them What's Inside
The next part of your sales page needs to give visitors the details about the book.
You've shown them what it looks like, qualified them with questions, and stated a few benefits, now it's time to tell them what they're going to get once they buy a copy.
The simplest way to do this is to write down a list of chapters with short descriptions next to the chapter title. It's important that these descriptions are benefit driven.
You can use phrase like:
In this chapter you'll learn…
This chapter teaches you how to…
In this chapter you'll discover…
The point is to give your visitors all the information they need to make an informed decision. Don't just mention what's in the chapter, also talk about what that will help them do.
Another way of "telling them what's inside" is to bullet point all the best part of the book with statements that spark curiosity. Here are some examples:
Discover the 4 ways to use images to bring and retain more visitors at your website (Page 14)
Learn how to create an email sequences that will have people buying the moment you launch (Page 22)
The one thing every ebook author must do to get ongoing sales (Page 48)
All those statements point to a specific page of the book. It insinuates that if they read that part of the book, they will get that specific benefit.
It's important not to oversell or overhype your ebook, though. If your customer buys a copy of your ebook based on one or more of those bullet points and you don't deliver, be prepared to refund a bunch of copies.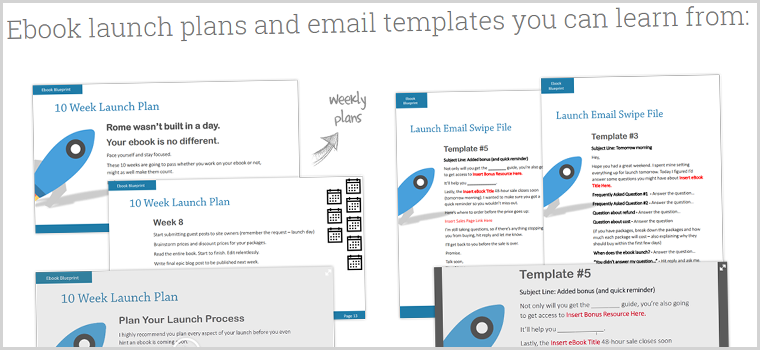 Adding Value: "But That's Not All"
Remember, the only part of the process that you have control over is the offer. You're not creating desire for your ebook, no one can actually create desire.
You're simply solving a need or fulfilling a want people already have – and since you control the offer, you better make it a good one. So good it'll be impossible to resist.
That's the next part of the ebook sales page. These questions should help you:
How can you add more value to the ebook you're selling?
What resources can you add that will make it easier to apply the lessons?
Please note that your ebook should stand on it's own. It should be valuable (and worth the price) regardless of what you add to it. Your additional resources should be the icing on the cake.
They shouldn't be required or integral pieces of the process or else they wouldn't be added bonuses, but rather part of the ebook itself. Just keep that in mind when designing your packages.
And just to make things even simpler, here's a list of resources you can add to your ebook to add more value and maybe even increase the price you charge:
Worksheets & Checklists – break down your process into a series of steps and offer that as a PDF
Video Tutorials – take 5 important parts of your ebook, create slides out of them and expand on them through instructional video tutorials
Audio Version – record yourself reading your book and offer the mp3 version as a free bonus.
Done-for-you Templates – if you ask people to create something you've already done yourself, create a template and give it to them.
Swipe Files – emails, letters, scripts, sales pages, or anything else you've written in the past (pertaining to the ebook topic of course) can be packaged together and given away.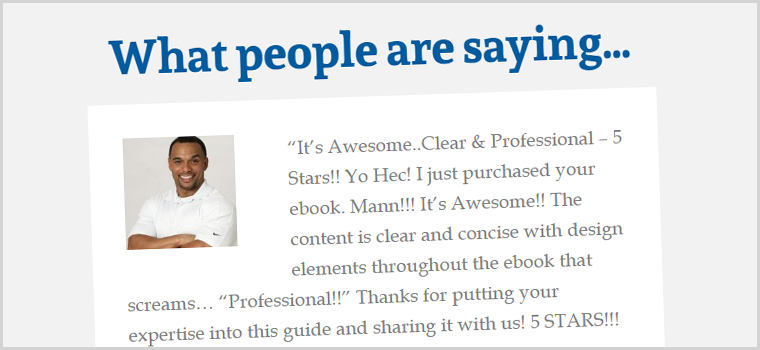 Show Them They're Not Alone
One of the biggest roadblocks to selling anything online is the huge amount of skepticism behind digital products.
If you've been around this space for a while you've probably noticed a shift in the way people do business. It's gone from overhyped sales pages that promise the world, to a more rational approach.
There are still plenty of people operating with the old approach, but the new transparent way of doing business has pretty much taken over. Still, it doesn't negate the fact that people will be skeptical about what your ebook will help them do.
This is where testimonials come in handy.
We are social creatures. We want to feel like we belong and studies show that we will conform to a group's way of thinking in fear of being deemed an outsider.
This is by no means me telling you to use testimonials to make people conform or do things they don't want to do, but it is useful to show them that they're not alone.
After making your case about what your ebook can do for them and how much value you're going to provide, they want to see that other people have taken the same step they're about to take.
use testimonials submitted by customers
in-depth case studies
quotes or comments left in your blog posts
emails people send you
If you don't have any customers for the ebook you're trying to sell now, you can still show your visitors you're the real deal. Ideally you'd want to have a small audience prior to launching and you'll be able to use any positive feedback you've gotten about your work as a way of showing potential customers that people trust you.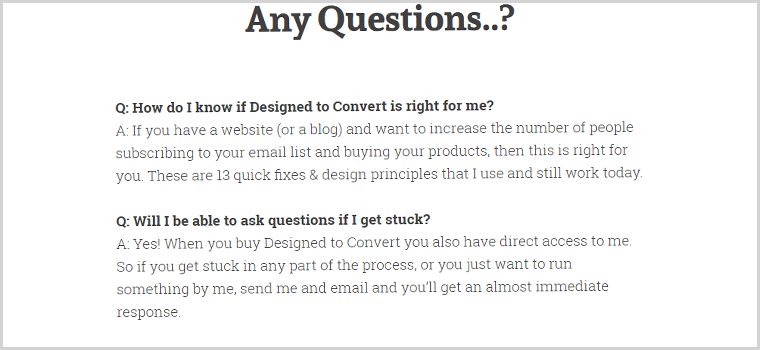 They Have Questions. Give Them Answers.
I believe every sales page should have a question and answer section. It allows you the opportunity to clarify some concerns your visitors may have.
Usually during a launch you might get a few emails from potential customers with questions you can ask in this section. These are the most important questions to add because these people are actually thinking about buying your book, but need a little more info.
If you're not getting questions via email or social media, here are a few questions you might want to answer. Remember, you want to continue driving home the benefits your ebook provides. So when you answer them, reassure your visitor that they're making the right choice.
Is this ebook right for me?
What if I don't like the book? Do you offer a money back guarantee?
What format does the book come in?
How will the book be delivered after I purchase it?
Will I be able to ask questions if I get stuck?
What payment options do you accept?
Do I get future updates for free?
I still have more questions… where can I reach you?
I'm sure you can think of a few more on your own, but theseeight are a great place to start.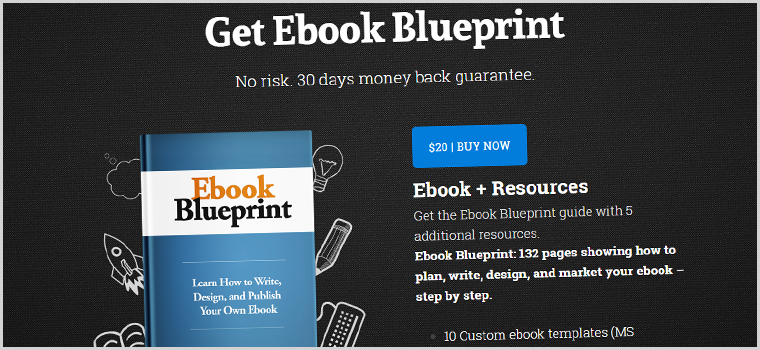 Finish Off With a Bang
The final part of your ebook sales page will be made up of a few parts, just like the beginning. In the image above you can see I have the book graphic, a call to action, a summary of the offer, and a buy button.
Let's dive into all of these in more detail.
Call to Action & Guarantee
I start this section with a big headline and a simple call to action – Get The Book. By this point I've told them who's it for, what the benefits are, what chapters are in the book, and additional resources they're going to get.
Now I just want them to make a decision. But not before reassuring them that their decision isn't final. They have 14 or 30 or 60 days to email me back and ask for a refund.
This is called risk-reversal. I take on 100% of the risk by letting them keep the book if they don't like it and ask for a refund. It's a digital book so there's nothing to send back. Some people are afraid of taking this risk, but the rewards far outweigh the risk of people refunding all time.
It's your job to create a book so good that they won't even think about asking for a refund.
Sum Up The Offer
Right after the big call to action I sum up the offer. This summary is best done in bullet points. Simply state what they're going to get, how many chapters or pages, and the big benefit.
This is where the additional resources come in handy. Write down everything they're getting in addition to the book itself. Any checklists or worksheets, templates, swipe files, or video tutorials should be stated in the final summary.
If you're selling the book in multiple packages, create two summaries. One with the ebook itself and one with all the additional resources. Here's an an example of the Ebook Blueprint page:
Ebook + Resources
Get the Ebook Blueprint guide with 5 additional resources. 
Ebook Blueprint: 132 pages showing how to plan, write, design, and market your ebook – step by step. 
10 Custom ebook templates (MS Powerpoint files)

Portrait and landscape ebook covers (Photoshop Files)

Ebook Blueprint audio version (MP3 File)

10 Week Ebook launch plan (PDF File)

Launch email swipe file (7 Emails)

30 day money back guarantee
If you want to use this format feel free to copy and paste it to your ebook sales page.
Buy Now Buttons
Lastly, add one last BUY NOW button. I know this is the first time I mention buy buttons, but these should be scattered throughout the sales page.
You're going to get people at every stage of the buying process, so you have to be ready for that. This means some people will be ready to buy the moment they land on your page, while others will need to read a lot more to make a decision.
Having a buy button after the introduction, when you mention the chapters, after the resources, and in the summary gives your visitors more opportunities to click and buy wherever they are on the page.
Don't make it hard for them to purchase the book. Adding multiple buy buttons isn't pushy, it's convenient.
I hope you enjoyed this simple guide to writing ebook sales pages. To get a live demo of these strategies and ideas, check out my sales pages for Ebook Blueprint and Designed to Convert.
Can't wait to see yours.