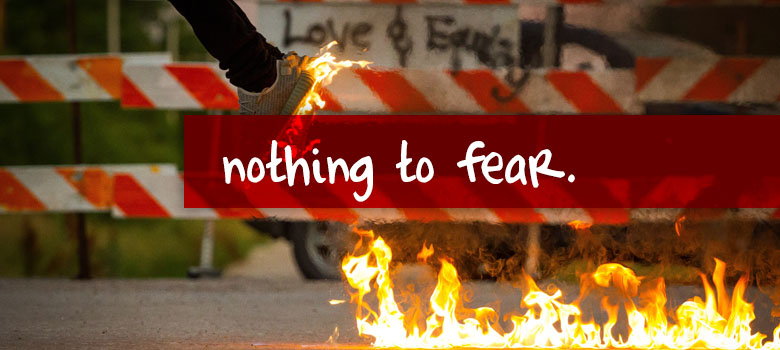 It's normal to go a little crazy when you're creating and launching your first online course.
Your mind goes wild. Some thoughts are positive and optimistic. Like imagining yourself paying off your credit card debt, or just buying something nice for yourself.
Those are fun to think about. But there's also the other side of the coin. The side filled with fear, worry, and self-doubt.
Some of these thoughts make sense, while others are completely irrational. The one thing they all have in common is that they're all very common.
Let's dive into seven of these fears, worries and doubts when creating your first online course. These are things that I've had to overcome having created multiple courses.
Don't worry… I'll also give you some ideas of how to move passed them.
1. Creating Something No One Wants
A very common worry people have even before creating the first course lesson is wasting time and money and then no one buys when the course is available.
This stems from a few things. First, it's not believing that what you have is valuable. Secondly, this worry also comes from not doing your research. In the end there are no guarantees when creating any product, course, ebook, or business.
You have to deal with the reality that this course MIGHT ACTUALLY FAIL – and you have to do it anyway. On the other hand, there are validation strategies that I teach inside my courses that help you identify if your course might be a good fit for your audience.
So if you fear that your course might not any real value to your customers, do your research, make sure people actually want the solution to what you're creating, and BELIEVE that what you have to share is useful and worth paying money for.
2. They'll Know I'm Not an Expert
We have this idea that only experts teach – and if you're not an expert, then you shouldn't be teaching. That's a limiting belief and it'll stop you from creating the course you've been wanting to create.
This is the impostor syndrome and it plagues all of us, no matter how much you know about a topic. Think about it, there will always be someone more verse, more skilled, and more knowledgeable about any given topic. What I suggest you do to overcome this fear of being 'found out', is to focus on the customer.
As long as you know more than your ideal customer and you can get them to their desired result, then you're good to go. That being said, don't try to teach people something you haven't done yourself. I teach podcasting because I've gotten over 100,000 downloads of all of my iTunes shows. I teach ebook writing because I've created and sold ebooks, and I teach about courses because I've done that, too.
Be a few steps ahead of your audience and you will be just fine.
3. I Don't Even Have an Audience
Don't have an audience? Well, you should just give up… there's nothing you can do. Stop reading this and go do something else because only people with an audience should be creating courses.
Clearly, I'm joking… and that couldn't be further from the truth. If you don't have an audience, then you should also be creating courses (free ones) that will give you a better idea of what people are willing to sign up for.
…and when they sign up for those free courses, you make them give you an email address and maybe even sign up for a free membership like I do with my blog. This is how you build an audience. Not by wondering which one comes first, the people or the product. You build them both at the same time.
Create something awesome like a free courses and give people an opportunity to sign up. If it's really good, they'll share it and your following will grow. Then you can survey and do all the other things I teach to create a paid course and get sales. But for now, focus on building that initial group of followers.
4. Not Sure How Much Information I Should Add
Your first course will take you a long time to put together. I just want to prep you for that. Not because you'll encounter a lot of hiccups – I can help you with most of those – but because you'll want to add every single thing you've ever learned about the topic.
We feel like the more content we add to the course, the more valuable it becomes. What I know now is that a great course or ebook transforms your customer. It gives them only the information they need to take action and see results.
You want your course curriculum to make sense. You want people to watch a lesson, learn something, and then take action immediately. They don't need the history. They don't need your theories. They want the what and the how explained in a way that they can understand. People pay for results, they don't pay for 96 videos with 59 slides each.
That gets boring quick.
5. I Don't Have The Skills To Do This
This is a common one, but an easy one to address. Gary Vee once said, "you didn't grow up driving, and you learned that." In other words, you can acquire the skills you need to create your first online course.
Here's a quick list of the skills you might need to learn:
video recording and editing
setting up a membership portal
setting up a payment processor
working with Powerpoint or Keynote
uploading and hosting media files
creating sales pages and landing pages
…all of which I teach how to do inside the tech module of Zero to Online Course. You don't need to be a world-class programmer, or copywriter, or developer. You only need the basics and you'll be just fine.
Now, if you have the money you can hire people to do this stuff for you. It'll save you a ton of time, but it'll cost you. In the beginning you're either going to have more time or more money. You decide what you want to do.
6. How Much Is All This Going To Cost?
Along with learning the skills come the expenses. If you're going to learn how to record and edit video, you're going to need software to do that. If you're recording yourself teach, then you'll need a camera. You can just use your smartphone. Most phone record in HD now.
You'll need PowerPoint or Keynote for presentation slides. You'll need Camtasia or Screenflow to record your screen, and you'll need a membership plugin to protect your content. This part eliminates a lot of competition. People don't want to put up any cash, but don't realize that this is just like any other business.
You need to invest in services, software programs, and resources if you're going to create something worth selling. Don't skimp on the quality of your course, but don't worry about making it perfect either. Keep in mind that no matter how much all this costs, these expenses are nothing compared to a brick and mortar business where you'd pay rent, insurance, payroll, furniture, and everything else that comes with an offline store or shop.
7. Fear of Being Judged By…
Friends
Online Peers
Relatives
Customers
Your Audience
You're putting yourself out there, so this is a legitimate fear and also a common one. Whenever you try anything new or you step out of your comfort zone, you're going to turn heads. You will make noise and people will notice you.
You need to be ready for that, but can't be afraid of what they'll think, say, or do. Ask yourself, "what's the worst that can happen?" Subscribers might unsubscribe. Friends and relatives might ask what you're up to and make comments that make you uncomfortable. Some might say you're scamming people because you're not an expert.
Customers might ask for a refund. Your peers won't give a crap about what you're doing, even if you think they will. Guess what? There's nothing on the other side of fear and you'll realize that when you process your first refund, or when you get your first negative comment.
It'll happen, but that shouldn't stop you from creating that course and releasing it to the world.
Set your calendar
My brand new training program, Zero to Online Course, will be open for enrollment next week. Set your calendar. You won't want to miss this.