Do you have a message to share with the world? Do you want to grow a following and earn an extra income online?
Blogging can provide both of those things for you.
Even if you're not an aspiring author, blogs are the perfect vehicle to get the word out about your physical products, consulting, graphic design, Etsy shop or church.
Close friends of mine often tell me they want to start their own fitness blog to teach people about weight lifting and losing weight, but don't know how to get started. The 'setup process' is too hard, they say.
It's actually not hard at all. You can setup a WordPress blog in 5 minutes from scratch. This guide will show you how to get your domain name, web hosting, install wordpress and a Studiopress theme in just 5 minutes.
Now, you might be wondering why is there a need for a wordpress blog setup guide. Well, this is specifically for a self-hosted wordpress blog; very different from blogs like BlogSpot, WordPress.com or Tumblr.
Self-hosted is what the serious bloggers use. People like Brian Clark at Copyblogger, Pat Flynn at Smart Passive Income and Marie Forleo all have self-hosted blogs and it's what I have here at Inbound Pro. To learn more about the difference between a WordPress.com and a self-hosted WordPress blog, check out this article.
Things You'll Need to Get Started:
Domain Name (free with hosting plan)
Web Hosting
WordPress Theme (recommendations below)
Credit Card (someone's gotta pay for it… but don't worry – this won't break the bank)
Let's get started…
Step #1. Get a Domain Name
The domain name of my website is InboundPro.net. Choosing the right domain name is very important and hard to do because it cannot be changed once you buy it. It can be something like YourName.com or branded like mine. Fortunately, the hosting company I use and recommend gives you a free domain when you sign up.
Step #2. Get Website Hosting
Web hosting is basically rented space. This is where you website lives. You're paying for space on a server somewhere in the world so that people can visit your website when they go online.
There are many different hosting companies out there and I've used quite a few of them. But the one I use now and have stuck with for the past 4 years has been Bluehost. Here's why:
They give a free domain when you sign up (I said this already)
They're extremely reliable (my website is always up and running)
Their customer service is amazing (they've helped me with a ton of technical stuff)
My websites load extremely fast (which is important)
And Bluehost is affordable. At $3.95/month you can't go wrong
Click here to get your domain and hosting package and then follow the detailed visual guide below. 
Step #1.
When you visit the link above, click on the 'Get Started Now' button to continue.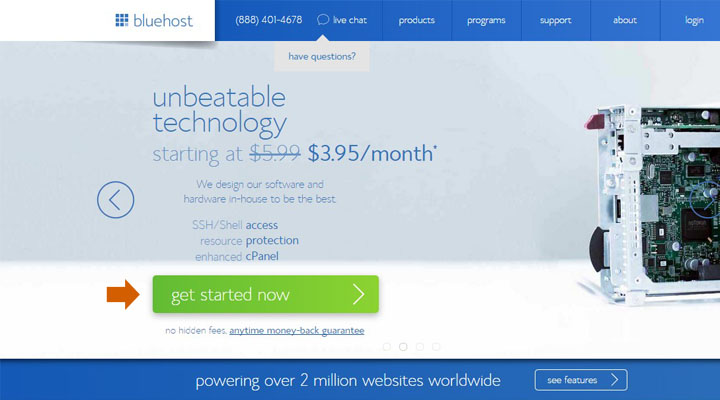 Step #2.
Select your Bluehost hosting plan.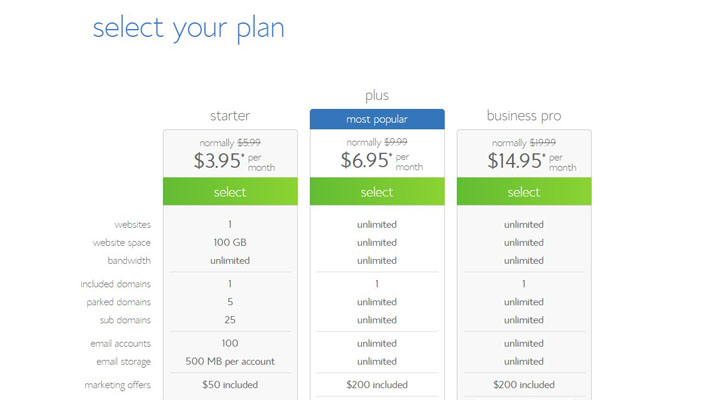 Step #3.
Select a new domain and enter it in the form on this page. If the .com isn't available, you can try .net (you can also bring over a domain you've purchased someplace else, like GoDaddy.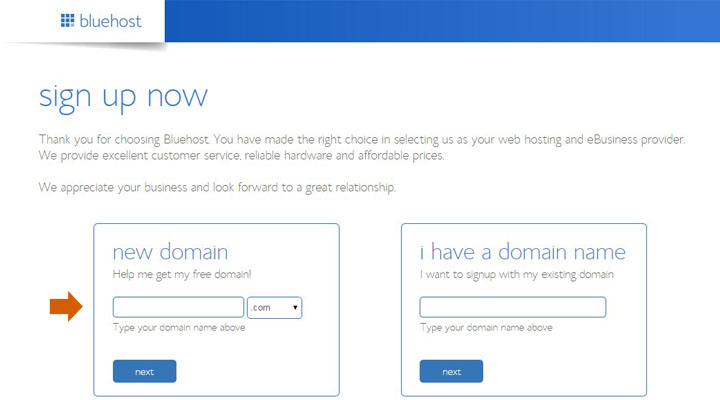 Step #4.
Setup your account and pay for your hosting plan.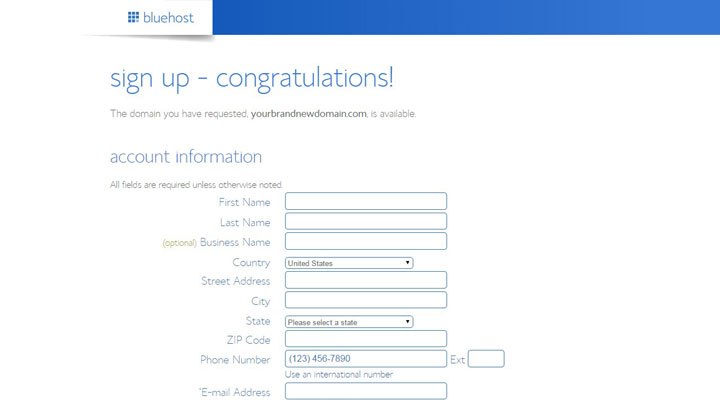 Step 5.
Once you've paid for your plan, you'll get an email with more information on how to log into your account. Once logged in, you can now select "Install WordPress" to being the installation process.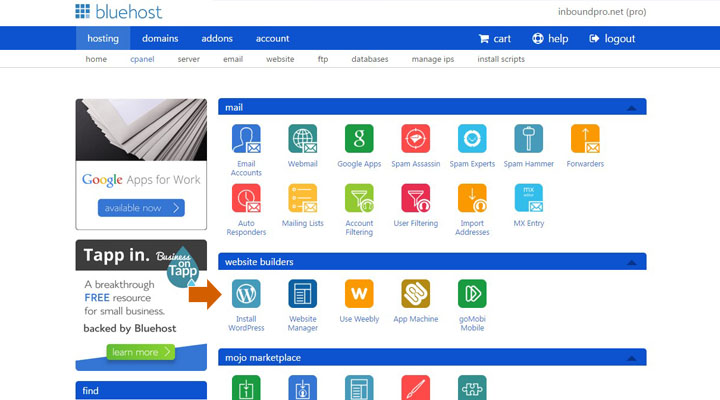 Step 6.
Click install.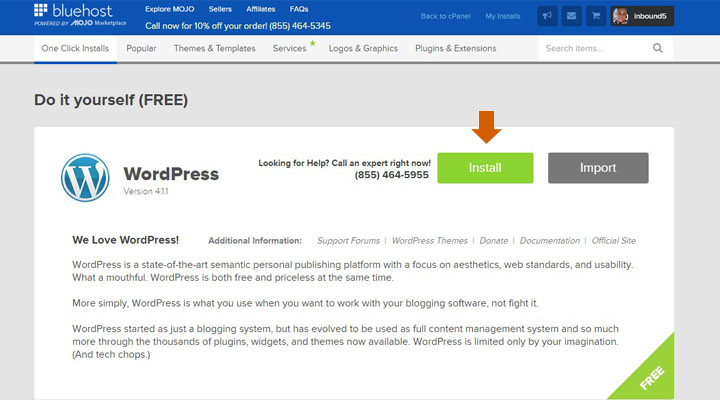 Step 7.
Select the domain you registered earlier and click on 'Check Domain'.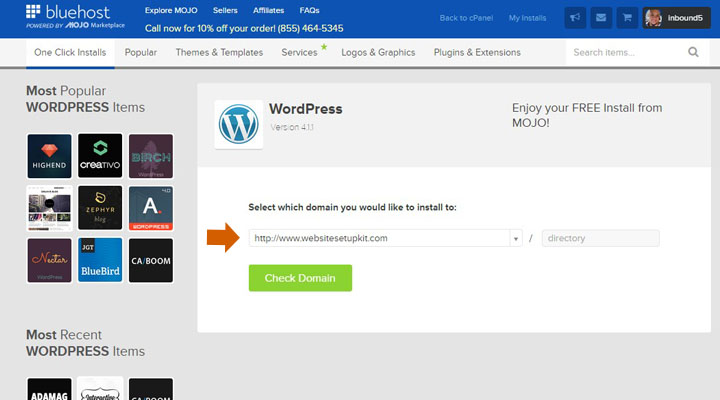 Step #8.
Very important. Check the box that reads "Show Advanced Options"and save the Admin Username and Password somewhere. You'll need it later on in the process. Click "Install Now" to begin the installation process.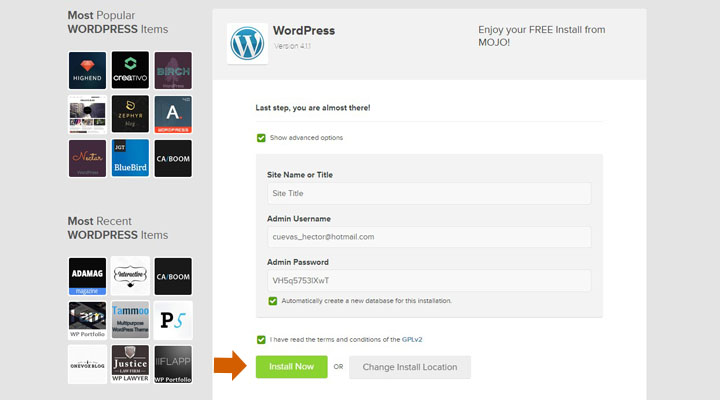 Step #8.5 – You'll see this screen when WordPress is done installing. Click on "View Credentials" when it pops up.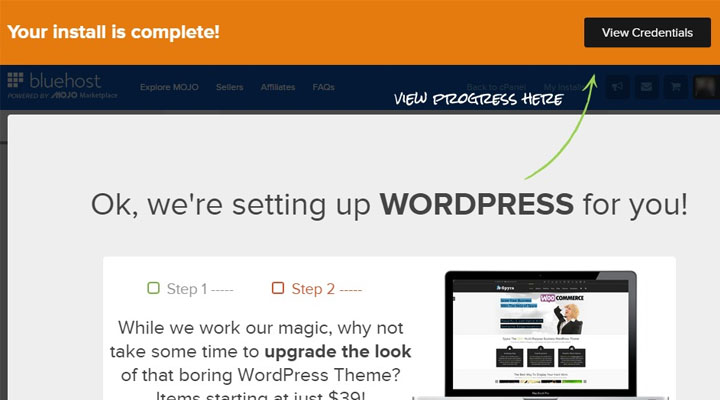 Step #9.
Click on the ADMIN URL to login with your Username and Password.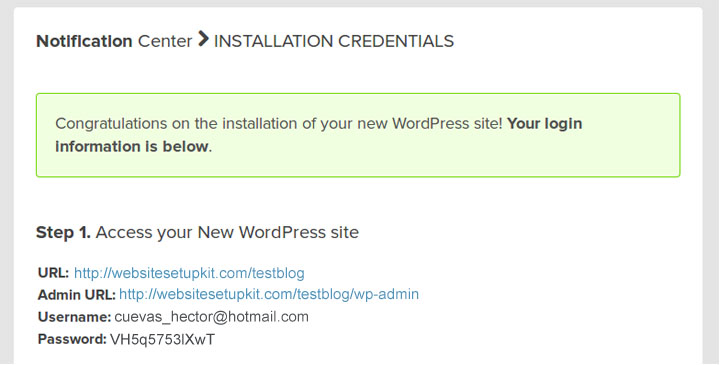 Step #10.
Login to your WordPress Dashboard here.
Step #11.
Click on Appearance >> Themes to install a WordPress theme of your choice. I use and recommend Studiopress Themes because they look professional, sleek and are easy to customize – plus they use clean-code, which is good for search engine optimization. Once you download the Genesis Framework and Child theme, upload and activate them. (Framework first, then the Child theme)
The Apperance Tab is also where you can add your logo, change colors and add navigation menus to your website.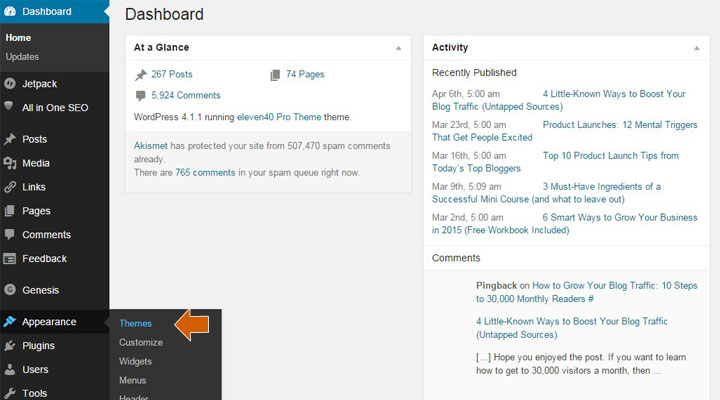 But if you don't want to pay for a theme right now, you can always check out the WordPress Theme directory with thousands of free theme.
That's it. You now have a self-hosted WordPress blog with a theme installed. You can now start creating content, building a following and creating additional income streams for yourself. If you have any questions or issues with the process, shoot me an email and I'll help you out.
Hope you found this useful.