You've probably heard of content upgrades. Many people are talking about them because they work.
Let me chime in with my 2 cents and tell you:
what content upgrades are
how to use them to grow your email list much faster
4 different content upgrades you create in a weekend
how I'm using them to get more people signing up to my list
First, what are content upgrades?
They're pieces of content you give away that enhance the content you're already sharing. In other words, they make implementing or understanding the content much easier.
Content upgrades are often (but not always) used as an incentive to get people to give you their contact information. But what makes them different from the generic bribe, or lead magnet, is that these upgrades are much more relevant to the post itself.
Instead of having just one guide, or ebook, or checklist on your blog's sidebar, you can have several content upgrades on individual posts and/or podcast show notes. This gives you the opportunity to create multiple points of entry for your email list. Content upgrades don't alienate visitors.
Maybe some of your visitors don't want yet another ebook to read, but will download a checklist or a powerpoint template. Those are just 2 examples. I'll give you more in just a second.
Next…
How are people using content upgrades today?
Content upgrades are being used to make your articles and podcast episodes better and much more valuable. So instead of just reading this, you get to join the Content Upgrade Course I created specifically for people that are interested in this topic.
(Keep in mind that the Content Upgrades Course is free until May 21, 2016)
The process works pretty much the same as the lead generation process. Someone lands on your content from a Google search, social media mention, or referral from other site because they're interested in the topic.
Headlines are still important. That's the first thing visitors see before they read your content. So make the headlines compelling if you want eyeballs on your work.
Next, after reading your content they see you have something more to offer (for free) related to the topic they just read about. Keep in mind, this doesn't have to be written content. You can offer additional resources from your YouTube videos or iTunes podcast episodes.
The point is, you want to offer related, relevant, and more useful piece of content to people that have proven to be interested in the topic. (because if they weren't interested, they wouldn't be reading it in the first place… makes sense, right?)
An example I like to use when talking about content upgrades is a PDF grocery shopping list. Let's pretend you're writing an article on your health and fitness site titled, "Top 10 recipes to build muscle and lose body fat." A perfect content upgrade to offer to people reading that piece is a PDF checklist with the ingredients and foods needed to make these recipes at home.
Someone can download the PDF file, print it out, and take it to their local supermarket and make those meals. That's what I call value. That's useful stuff and I don't know of any reason why someone reading that post won't think the same.
Content Upgrades Ideas (and the ones I'm using)
Now let's get into the types of content upgrades you can create and use to grow your email list. I'm not using all of these, but there are plenty of examples online of other bloggers that are doing so successfully.
1. Templates
I have a few articles about writing and selling ebooks. Once talks about outlining your book, another talks about finding a profitable ebook idea, and I even contacted 14 ebook authors to share their most valuable advice with us.
One thing that I know holds many people back is technology. So I created two PowerPoint ebook templates that anyone can download and use for free. That's my content upgrade. It's useful, it saves people time and money. You can do the same. It doesn't have to be 6 page templates on PowerPoint, but you if you have some design skills you can create Photoshop, MS word, Apple Pages, or Keynote templates for people to use online.
2. Blog Post to PDF
Don't want to create templates? Thats okay. Turn your blog posts into PDF downloads. These content upgrades are much easier to create than everything else on this list.
If you know how to copy and paste to Microsoft Word, create a decent looking cover, and save it as a PDF file, then you can start doing this today. You might be wondering, "who the hell wants to download the blog post as a PDF file?" The answer is…
Some people like being able to save things to their computer, print it out and read it at their leisure. This works especially well if the article is over 2,000 words long and has a lot of actionable information. So don't discount it because you might not be the type of person to download a PDF document and print it out. Test it to see if your readers like it.
An example of this can be found here.
3. Quick Start Guide
This content upgrade idea is more like my 10 Step guide to Creating Online Courses. It's very specific, but can also be used in different articles. When creating a quick start guide, think about a specific category that it can apply towards.
For example, I've written a few articles about online courses:
All of these blog posts relate to the quick start guide, so that's what I offer as a content upgrade.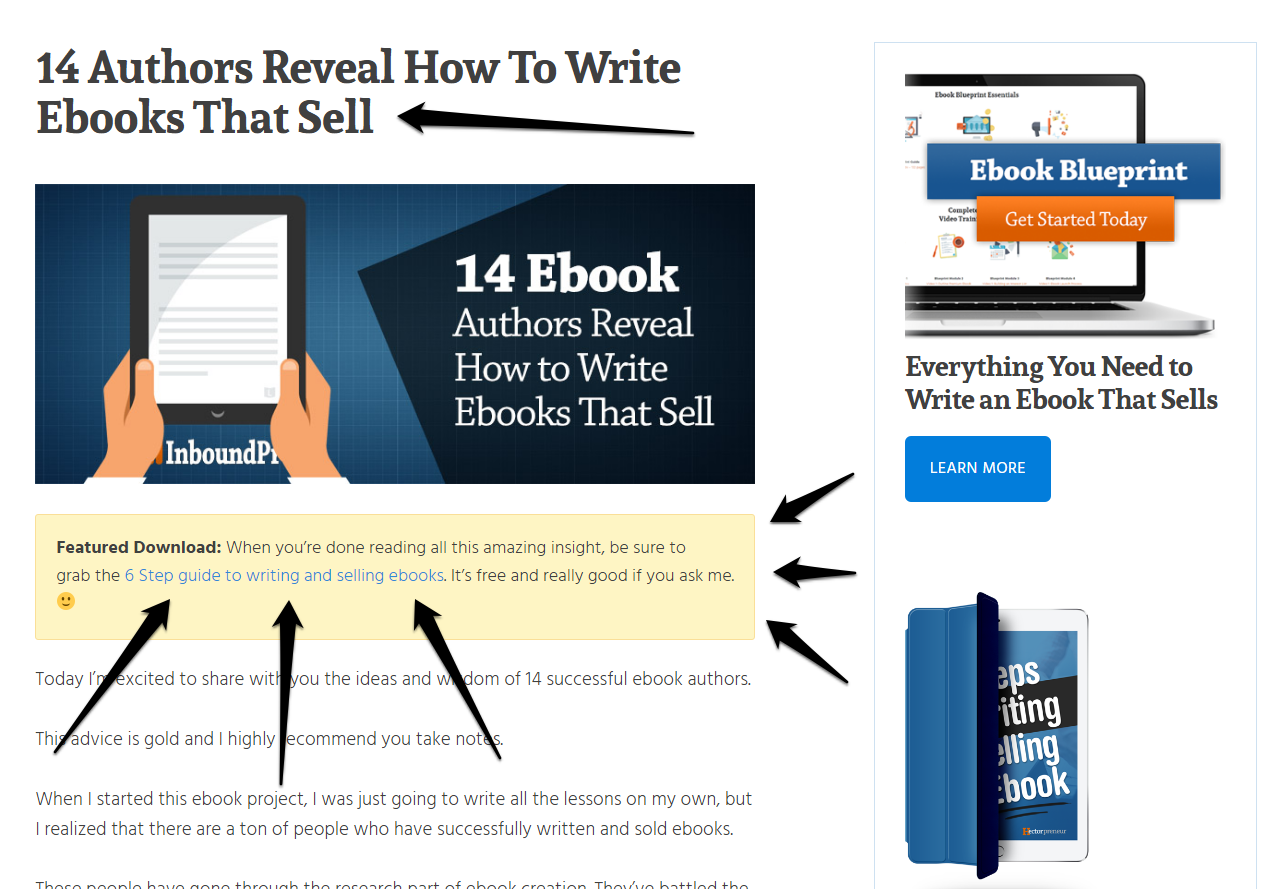 4. Video Tutorials
On top of the written content you have on your site, you can take it one step further and give your audience actionable video tutorials showing them HOW to do something. That video tutorial can be given as a content upgrade on a separate, subscriber-only page.
An example of this could a membership site setup video on a blog post titled, "10 Reasons Why You Should Launch a Membership Site". Not only would readers get value from reading the post itself, but they would also want to learn how to set it up using WordPress and membership plugins.
Both pieces of content are free. The only difference between the two is that one is behind an opt-in form; and just like the recipes example, anyone reading the benefits of starting a membership site will want to learn the technical side of setting one up.
I'm going to stop the list here, but I'm sure you can think of many more upgrades to create. If you're a designer, then you can give away desktop wallpapers, icons, or web graphics. If you like recording audio content, then create a 5 minute audio recording reading the post or adding to it for clarity.
There's a lot you can do. Think out the box. Now let's more on to the big announcement.
Content Upgrades – The Complete Course
This is my content upgrade for this post, but it's only available for free until May 21, 2016. (so if you show up after this date there will be a price tag on that page). That shouldn't stop you from getting it anyway because it's awesome and you will get 10X the value.
The course is made up of 6 instructional videos and 4 additional resources to make it easier to create and promote content upgrades.
Go here to get started with the Content Upgrades Course. You'll learn everything you need to about the course on that page. See you inside