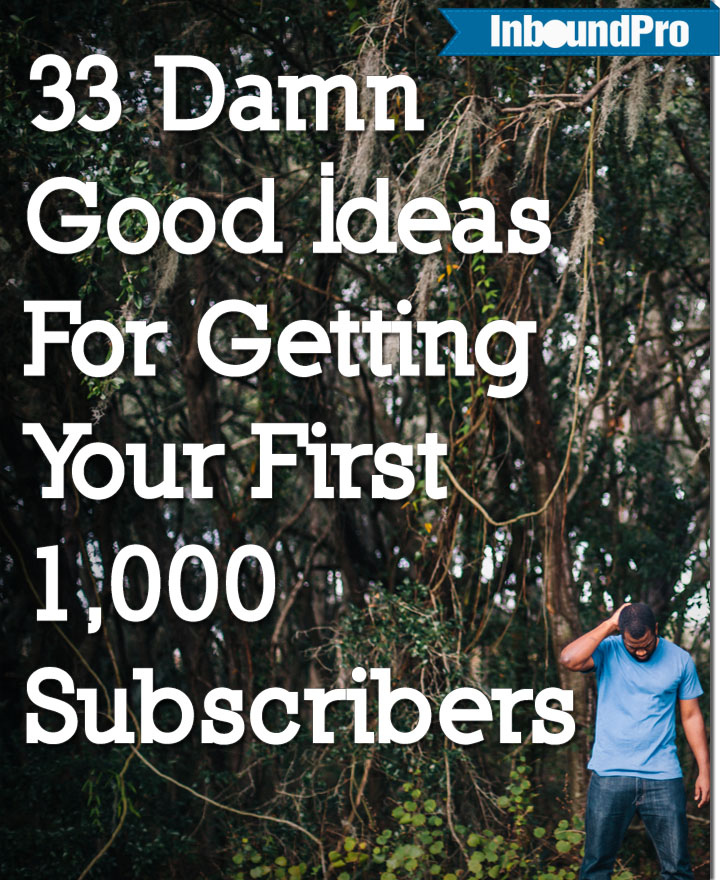 You've heard it all before.
Build a list. The money's in the list.
Here's a fact: If I had to start from scratch, the first thing I would focus on is growing a list of email subscribers.
If you've been reading this blog for a while, I don't doubt for second you understand how important it is to build one, but you might be struggling with the actual building part.
If this is true for you, read this article…
At least one of these 33 ideas will help you get more people signing up. I want to help you get to the first thousand, so you can see how easy it is to get the next thousand.
Landing Pages Are Gold
1. Blogs generally don't convert very well, so be sure to have a landing page. You might get 1 to 3% from your sidebar opt-in form, but the landing pages I've created have converted up to 53%.
2. Headlines are important, especially on landing pages. So spend some time crafting a killer one.
3. Tell your visitors why they should subscribe. They won't do it just because.
4. Give them only two options on this page; subscribe or leave. If you have the right elements, they'll sign up.
5. Provide them with multiple opportunities to enter their email address. One above the "fold" and one for the "scrollers".
6. Use social proof. If they see that others have taken that step and subscribed, they'll be more likely to do so.
7. Don't ask for too much information so soon. This transaction marks the beginning of the relationship, you don't need much more than a name and an email address to start building trust.
Check out the landing page I'm using now.. converts really well :0)
Copy Matters
8. Sell your offer, even if it's free. Free is a powerful word, but it's not enough.
9. When writing the copy for your offer, always focus on the reader. State the problem and how they can solve it with your free gift.
10. Remember, features don't sell, benefits do.
11. Use a call to action: Tell your visitors exactly what to do to sign up. Don't assume they know what the next step is.
Use Your Content As Bait
12. Your content should attract the people you want on your email list. These are the people who will eventually buy from you.
13. Sprinkle hints (and links) in your blog posts about the things you share inside your free gift. This leads more people to your landing page. (I already did this in this article)
14. Write content that is going to spread like wildfire. The more traffic your articles pull, the more subscribers you'll get. You won't know before hand if an article will be a hit, but the more you write, the better you get at predicting traffic spikes.
15. Don't waste your guest posts traffic. If you have an opportunity to write for a completely new audience, don't send them to your homepage. Send that traffic to your landing page for best results.
16. If you're recording video and posting them on YouTube, send them to a landing page.
17. Use your audio podcast to drive people back to a dedicated page on your site; the easier you make your domain to pronounce and spell, the more people will take action and go to the site. (avoid saying, "visit www.Inboundpro.net/blog/awesome-free-gift" – it's too long)
Don't know how to start a podcast? There's a course for that…
Location, Location, Location
18. Place opt-in forms in prime locations around your blog. The sidebar is only one spot, and it's not even my best performing form. I reveal where most of my subscribers sign up inside the 13 Design Tricks Guide.
19. Your blog has a lot of valuable real estate. Don't place affiliate ads and adsense where your subscription forms should be.
20. Experiment with new locations frequently. You never know how a pop-up or a HelloBar will perform until you try it.
Let It Be Known – Promotion is Critical
21. Build it and they will come? That's so far from the truth, it's not even funny. If you don't tell your readers about your offer, they won't sign up.
22. Lead generation is 50% "set and forget" technical stuff – and 50% promotion. Once you have everything up and running, ready to collect emails, spreading the word becomes your number one priority.
Get Personal
23. I hate corporate emails; I'm sure you do too.
24. People want to learn from (and connect with) a real person – no matter how big your company is. Add personality to your content, landing pages and emails and your existing subscribers will share what you're doing with their friends.
25. Reply to emails from your existing subscribers. Share more and you'll get more.
Testing is Key
26. Don't assume that everything you're reading in this post will work for you. Or that once you implement these ideas, that's the best you'll do. Test everything.
27. Test the different locations that you're placing your opt-in form.
28. Test the headline and copy of your landing pages. Use different words.
29. Test the layout of the landing page. Move stuff around.
30. Test the images. If you don't have one, add one. If you do, try taking it off.
31. Unless you're getting a 100% visitor to subscriber conversion rate, you should be testing. This is how I went from a page that converted at 28%, to one that converts at 42%.
Email Marketing Mindset
32. You're not building a list of emails, you're building a list of people who are actively searching for a solution to their problems.
33. Your subscribers are counting on you to help them. Don't take advantage of that.
If you're still new to email marketing, or inbound marketing in general – get the 8-part course. You'll learn how blogging, traffic, social media, and email all fit together. And, in the end, you'll know more about this stuff than most "marketing professionals" at big name companies – guaranteed.
Found this useful? – Share it!
Have a question? – Ask it!
Have a comment? – Leave it below.. talk soon.