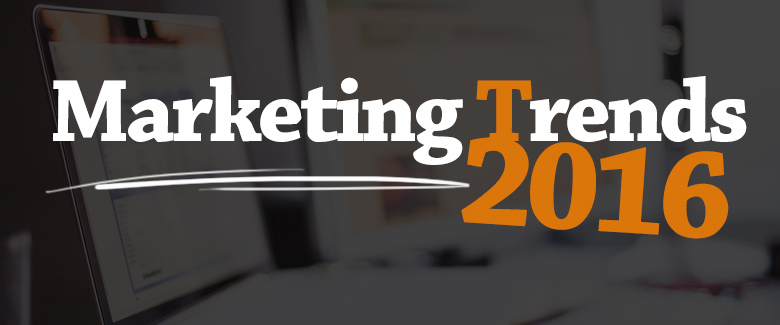 2016 will be epic for digital entrepreneurs like us.
But only if we pay attention to what's happening in the online business and marketing space.
So here's your Marketing Trends 2016 post (I'm sure you'll see a bunch of these pop up in the next few weeks), but instead of giving you a ton of 'predictions', I wanted to give you some examples of how to apply these principles.
You see, there are a lot changes happening online as far as how we consume content and how we interact with brands and companies.
Most of these changes are happening in the social media space, but there are other 'little-known' marketing principles that will continue to grow in 2016. So, here's to an awesome new year.
Now let's get started with how we're going to make it epic.
1. Real Time Marketing (Yes, in front of the camera)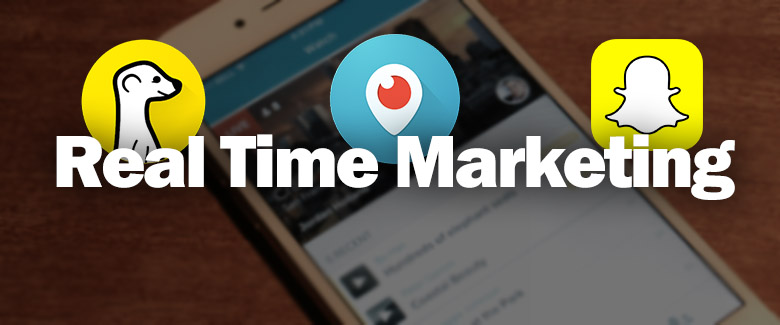 Here are some interesting social media facts you should know about.
Snap Chat currently has 100 million daily active users
65% of Snap Chat users upload snaps and stories. (very active users)
Periscope has 1.85 million daily active users
350,000 hours of video is streamed daily on Periscope
What does this mean and how can we use it?
This data basically tells us that this is where the users are and as entrepreneurs we have to go where the people are.
The fact that these apps are growing says people are gravitating towards more real-time interactions. With SnapChat you can upload a 10 second snap that 'expire' after being viewed by recipients. Added to that, SnapChat allow you to upload stories that expire after 24 hours.
This means when we upload something to our SnapChat, we have our audience's attention for 10 seconds – and the snap expiring after some time creates a sense of urgency. Users won't want to miss an update because there might be a special promo or announcement in the Snap.
These real-time apps also allow you to create deeper connections with your people. Take Periscope or Meerkat for example. They allow you to live stream and provide entertaining / inspiring / valuable content to your audience – these videos also live for 24 hours and are then gone. (more reasons for user to tune in when you're live)
Real-Time Marketing Example
How can you use these apps to market your products and services (or your online course *wink wink*). Serial entrepreneur Chris Ducker got 100 customers in 90 minutes when he first launched his mastermind community YouPreneur. He turned the launch of his membership site into a live event and people showed up.
But it didn't just happen. This took time and effort.
Chris offered a ton of valuable content leading up to this launch. He would get on Periscope a few times a week to share something with this followers. This goes to show you that you can turn real-time interactions and relationships into actual sales. (if you're willing to put in the work like Chris did)
2. Marketing Automation (time to do it better)
How are you automating your marketing?
Is your content scheduled out beforehand or are you still writing articles today for tomorrow?
Is your website optimized for lead generation?
What happens to your subscribers once they opt-in?
Marketing automation in 2016 is more than just having a few opt-in forms in your website and a 5-part email course that pitches your product or service repeatedly. This year you have to think about your buyer's journey – in other words, making sure the problems and objections are dealt with before they come up.
Do you have your content strategy mapped out to nurture the relationship before you ask for the sale? Is your content strategy helping you bring in a steady stream of traffic and leads to your business?
These are things you need to consider. We often get stuck doing busy work and fooling ourselves into thinking we're being productive and moving the business forward.
Checking social media and sending out broadcast emails is important, but your business will remain stagnant is you don't leverage automation. But how can you do this? Here's one way to tackle marketing automation:
Setup an 6 month auto-responder campaign that solely focuses on providing value to your leads. Schedule the emails to go out weekly. This will free up more time to create product-specific funnels that solve specific problems. Here's a graphical representation of what I mean: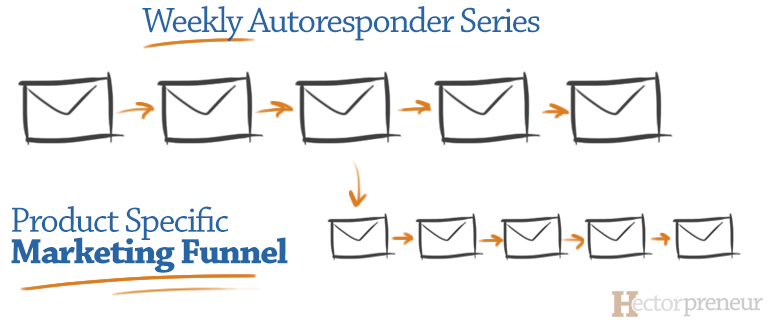 Automation is about predicting consumer behavior and creating a path for people to go on. Of course, people don't browse the web in a linear fashion. We just around – that's just how we work. But it doesn't negate the fact that taking people down a path will lead to increase trust and likelihood of them becoming a customer in the future.
3. Personalization on Steroids
This leads me to personalization.
In 2016 we have to get better at knowing who our target market is and how we can be help them reach their goals.
In November of 2015 I set up a survey that every new subscriber has the option of taking when they signup for the Content Library. This led to over 300 survey results and over 1,100 data points. Now I can better cater my content to the needs of my audience. Here are just a few things I found out:
79.9% of people taking the survey want to create and sell online courses
Roughly 54% of people have a self-hosted wordpress site
The other 46% are using either a free blog service or don't have a site at all
But getting the data is just half the battle, right? We have to actually use it to help the people taking the survey. Personalization is about putting the right message in front of the right person at the right time. Enter "The Architect Email" by Sally Hogshead.
Automation and Personalization Example
So the other day I took Sally Hogshead's Fascination Advantage assessment and found out I was The Architect.
This assessment is different than all other personality tests. Instead of it telling you how you see the world, it shows you how to the world sees you. So back to the example… I find out I'm an architect – so what?
Before I show you what Sally did, I need to mention that the amount of value she gives away for free. After taking the assessment, you get a brief report and a video talking about your archetype. This alone was an awesome experience because I felt as if she was speaking directly to me.
Sally then follows up a few days later (automated of course) to ask me to take the next step. The next step in this case is to get the full report detailing how I can use the findings in my social media profiles and even my marketing. Check out the screenshot: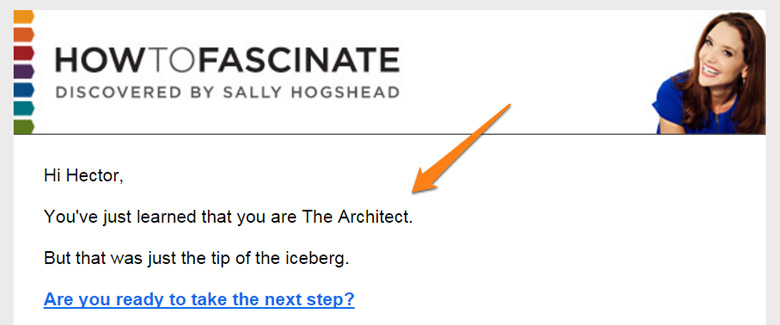 Sally could've been lazy and simply said, "You've just learned what your archetype is… are you ready to take the next step?" – but she went extra mile to personalize the email with my specific archetype in it.
How can you personalize your content? Can you create problem specific email lists? How can you split your audience into smaller groups and address their concerns? If you focus on that in 2016, you'll be far ahead of the curve.
4. On Demand Content
What is "on demand content"?
It's NetFlix. It's Hulu. It's DirectTv for your business.
It's the idea that your target market can get valuable content, inspiration, and entertainment wherever they are. Whether they're browsing the internet on their desk, in the gym, out for run, or on their way to work.
On demand content is best when it's portable and easy to consume. That's why I created my podcast network:

Here are 2 stats that might not surprise you.
there are 2 Billion smartphone users worldwide (and will continue to grow)
mobile media time in the US is now significantly higher (51%) compared to desktop (42%)
What can you do with this information? The simple answer is to start podcasting because audio content is easy to create, portable and easy to consume. They can take you with them anywhere they go. The long answer is to use everything we've been talking about so far.
When you figure out what you audience wants to learn, what they're goals are, and they're struggling with right now, you can create one (or even multiple) shows to tackle those problems. 2015 was a great year for audio podcasts and it's showing no sign of slowing down.
Take a look:

Just 10 weeks into my brand new podcast network, I am very happy with the results. 62,000 downloads and a 400% increase in weekly email subscribers. You don't need millions of downloads to get great results with a podcast.
Moving on to the fifth and final marketing trend that is also affected by smartphone usage…
5. Mobile Friendly Sites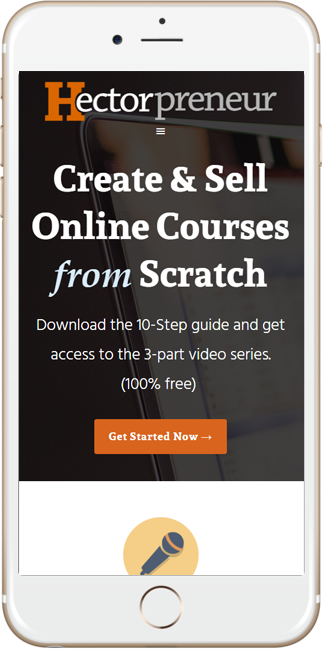 If I loaded your website on my iPhone, what would it look like?
Would the text be so small that I would need to zoom in to read it?
What about the buttons and calls to action…. are they big enough for me to tap on them with my thumbs?
These are simple questions, but super important in 2016. Did you know that 40% of people will choose a different search result if the first is not mobile friendly?
40% is a lot of people for a problem that can be easily fixed.
This is what my website looks like on an iPhone 6S. I'm using a customize Centric child theme by Studiopress. It's mobile responsive and creates a better user experience for your visitors and customers.
In order for us to stay effective and continue growing our audience and businesses, we need to adjust to the marketing trends that are happening. These are just 5 that you should look out for in 2016 – if you know of any other trends, let me know via Twitter (@HectorCuevas).
Hope you find these examples useful. For more content just like this, be sure to sign up for your free membership.
The Infographic