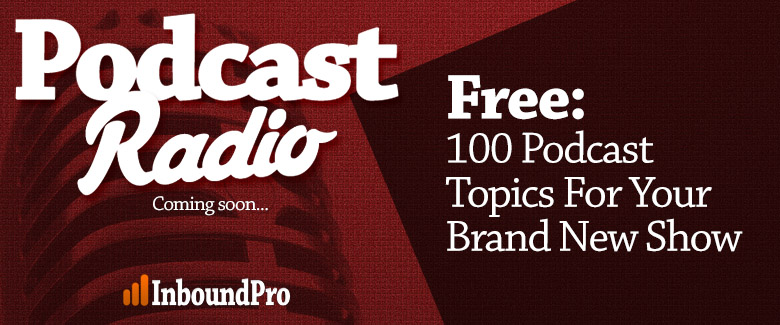 One of the first questions you ask yourself when getting started with podcasting is, "what do I talk about on my podcast?"
Sure, you can interview a ton of people and not have to worry about topics for your episodes – but if interviewing is not the format/style you want to have on your podcast, then you need to think about podcast topics for your episodes.
If you want to get passed the 20 episode mark (which seems to be about the time most podcast die) then you're going to need a list of episode ideas that will get you to at least 50 – for now.
So, here are 100. You can thank me later. (don't forget to bookmark and share this page)
You can use this list of topics for whatever you want – your blog, newsletter emails, guest posts – but since I'm starting a few new shows in the near future, podcasts have just been on my mind. I actually wrote down over 300 ideas for my future episodes. I'm taking a few out of that list and giving them to you.
Part of the work is already done for you, now all you have to do is start recording. So without further ado, here are:
100 Podcast Topics You Can Use
**Please Note** The letter 'X' represents your overall podcast theme or idea. Whether you're talking about parenting, business, or weight lifting, this list will help you come up with 100 new episodes. Simply replace X with your main topic and adjust to make the episode title make sense. 
1. Welcome episode – what is this podcast about and who am I?
2. Top 10 newbie mistakes when getting started with X
3. The harsh reality about X
4. The 5 tools/services/resources I use to X
5. How to improve your X with this one specific tip
6. The future of X
7. The smart way to X without getting overwhelmed
8. The steps I take right before I start X
9. 10 interesting statistics that may blow your mind about X
10. Ten things you probably don't know about me
11. Tell a story about something that happened recently that applies to X
12. 3 things I do right before I X to get my mind ready
13. How to stay motivated with X
14. Why consistency is important
15. What to do when you lose momentum with X
16. How to save money with X
17. 5 Apps that can help you get better results with X
18. Why you need to set X goals
19. How to set goals the smart way
20. What my day job taught me about X
21. Compare tools, software, resources to others in the market
22. Talk about an event in your industry that listener may attend
23. Talk about your experience at an industry event
24. The reason I started doing X in the first place
25. How to handle negativity / critics in your life
26. Why you need to surround yourself around positive people
27. How to start saying NO to achieve more with X
28. How to get more done in less time
29. The 80/20 rule applied to X
30. Progress Log: Talk about your goal and provide an update
31. How to gain confidence fast
32. Why you need to unplug from the web (and how it helps with X)
33. The fundamentals of X that most people forget
34. How to finish what you start
35. Everyone starts at Zero: motivate listeners to get started with X
36. Announce a contest exclusively for Podcast Listeners
37. Announce a listener challenge and instructions to join
38. How I really feel about X
39. Talk about your thoughts on a recent article you read
40. Ten X blogs you should follow and why
41. Five X Podcasts you should listen to and why
42. How to make good X habits stick
43. Behind the scenes: A Day in the life of (you)
44. X on a budget
45. If I knew then what I know now, I would…
46. Can I really make a living with X?
47. How to get X clients
48. How I bill my X clients and deliver my services
49. The fear of failure
50. The fear of success
51. Questions to ask yourself before starting with X
52. Seven people doing X the right way
53. What to do if you're too busy to X
54. How to stop caring about what other people think
55. How to know when to call it quits
56. Ten X tips from the experts
57. Don't make this stupid mistake I made. Do this instead.
58. Back to basics: An introduction to X
59. How long does it take to get great results?
60. Why you need an accountability partner
61. How I helped (person) get started with X
62. One simple (proven) technique you can do right now
63. Ask you listeners a question and ask them to email you their response
64. Create a checklist of your best tips and read them to your podcast listeners
65. How to track your progress with X
66. How to plan your day the smart way (the night before)
67. How to focus intensely on X (and why it matters)
68. What part of X gets prioritized
69. Why teaching other how to X helps you get better
70. Rant about something that you really don't like (keep it relevant)
71. Ten reasons why you should sign up to my email list
72. Ten reasons why you should hire me (or buy my course)
73. Ten reasons why you shouldn't hire me (or buy my course)
74. Talk about how you would improve on an existing product / service
75. Take a listener question and answer it on the podcast
76. An advanced X technique that's proven to work
77. Talk about a recent research study and how it applies to X
78. How to eliminate distractions and focus on X
79. Thank the podcast listeners (and give them a free gift)
80. Old X principals that still work today
81. Three X ideas that don't work anymore
82. If I had $50 to spend on X, I would buy…
83. Five X rules I refuse to follow (and why)
84. What you gained – or lost – by starting X
85. Talk about the people in your life that inspire you to X
86. Talk about what you would say to your younger self
87. Terminology: Define words and phrases used in the X industry
88. What I do before, during, and after X
89. What I learned about myself after starting X
90. Ten lessons I learned about X from my mentor (or mom)
91. My top 3 book recommendations to get better results with X
92. Talk about 3 miserable failures that you're embarrassed to talk about
93. Record yourself singing a song you wrote about X (at your own risk… Lol)
94. Highlight 5 iTunes reviewers and read their reviews (encourage more reviews)
95. Three X myths debunked
96. Ten things I wish I did more of (make it relevant to X)
97. Record an episode in which every sentence starts with "What if"
98. Talk about why you started the podcast in the first place
99. My top ten favorite X quotes of all time
100. Recap your first 100 podcast episodes and talk about your biggest lessons
That's a long list. You shouldn't have a problem getting way passed 20 episodes with this list of podcast topics.
Now do me a quick favor and share this page. You can click the link below to Tweet that message, or just use the buttons on this page.


Click here to tweet this message: 100 Podcast Topics For Your Brand New Show by @HectorCuevas – http://ctt.ec/SfUKI+
I'd appreciate that. Thank you. Enjoy!